My weekly weigh in today puts me down another pound for a total loss of 4.6. No complaints here! It is an interesting mind set, fasting on a Monday. After a week end of indulging it is almost a relief. This weekend was less indulgent than most because I am still getting over a cold and didn't feel like going out as much as we usually do. I stayed in Friday night. Saturday night, Larry and I went to a birthday party for a friend and, in case you have been anxiously waiting to find out, I did manage to pick up a nice outfit for myself. There was a buffet of sandwiches and nibbles and I did have a few bites but saved myself for a small piece of the toffee flavoured birthday cake . . . yummy! Sunday morning Larry and I went out for breakfast and then I spent the afternoon doing some baking for the boys for the week. Their Easter holidays ended this morning so I made some chocolate muffins and some Nutella bread for their breakfasts and I made a peach cobbler for dessert after their dinners this week. I guess I am getting old because I had a baking brain freeze yesterday. I was making the muffins, which called for the butter to be melted, so I put it in the microwave to do just that while I mixed up the rest of the ingredients. And then, of course, forgot to add the butter. It wasn't until I opened the microwave to put something else in that I realized. Oh well, the boys ate them this morning, Cam loved them and Connor said the texture was weird but they tasted fine.
Except for Oxo and coffee, I am saving all my calories for dinner and tonight I am making a recipe courtesy of Karen S Burns-Booth at
Lavender and Lovage
. She takes beautiful photos of her recipes and this one is
Cajun Chicken Kebabs
. If you have never been to her blog before, get thee there now. It is very well done and full of great recipes.
Cajun Chicken Kebabs at 209 calories/serving without pita bread, according to
My Fitness Pal
. My pita bread is 130 calories per piece which puts the total for this meal at 339 calories/serving. Other than doubling the recipe, the only thing I did differently was to add 1/4 teaspoon each onion and garlic powder, 1/2 teaspoon each of fresh lemon juice and zest, and 1 Tablespoon of chopped fresh coriander to the yoghurt sauce.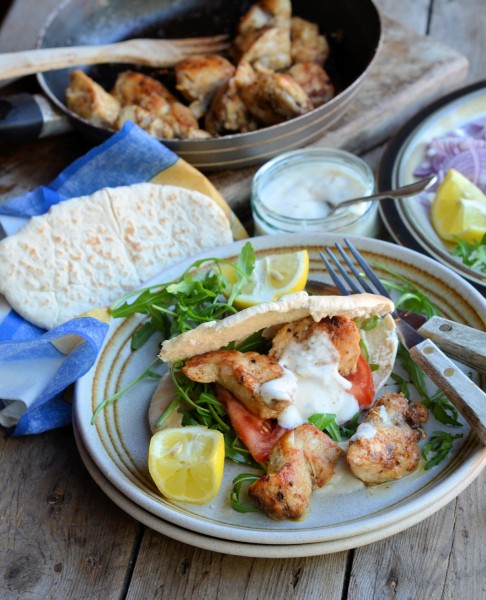 Well, I can tell you we enjoyed these very much!