From Dinners, Dishes and Desserts, one of our meals last week was
Roasted Garlic, Chicken and Red Onion Pizza
. It was delicious! The only changes I made from the original recipe was to use the olive oil from roasting the garlic, instead of butter, to make the roux for the white sauce and I didn't have any thyme so I used Italian seasoning instead. I also divided the Parmesan cheese and put about 2/3 in the sauce and sprinkled the rest on the top of the pizza. I put onions on only half the pizza as the boys don't really care for them and I put extra cheese on their half. The recipe says six servings but we got three, plus one extra piece, and Larry and I both had salad with it.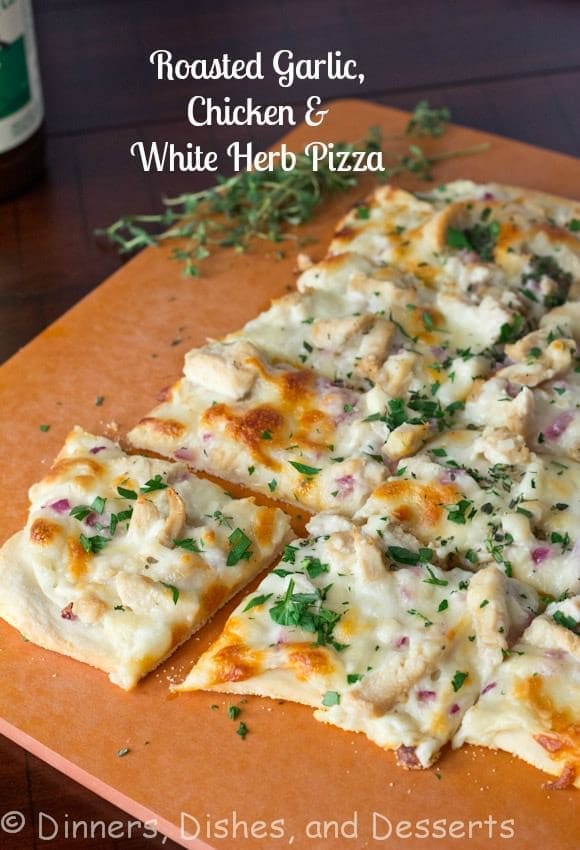 Recipe and photo courtesy
of Dinners, Dishes and Desserts
The other recipe I owe you is for Mince Rolls. Interestingly, Mince Rolls are unique to Dundee. If you go any where else in Scotland and try to order one, the server will look at you like you are crazy. I had my first ever Mince Roll at my local pub. The manager serves food during half time of the weekend football (soccer) matches and this is one of my favourite things he makes. Thank you, Paul, for the wonderful recipe!
Dundee Mince Rolls
1 pound lean steak mince
1 large onion, diced
2 medium carrots, diced
2 small potatoes, peeled and diced
1 cup frozen peas
3 Oxo (bouillon/stock) cubes, crumbled
1 (UK) pint (20 ounces) cold water
Pepper to taste
I take the easy way out and prep the veggies in the food processor. I chop them all into similar size (biggish) chunks then pulse until they are the size I want. I make them kind of small so the kids don't notice them as much. Paul often uses frozen mixed vegetables and that is just as good, no chopping involved. Brown the mince over medium heat, add the onion and the crumbled stock cubes and cook for a couple of minutes. Add the water and cook for 15 minutes. Add the carrots, peas and potatoes. Cook until the vegetables are tender. I like to put it in the crock pot/slow cooker after the meat and onion is browned and then add the rest of the ingredients. Cook on low all day or on high for about 4 hours. If the meat is too juicy you can thicken it up with gravy mix or corn starch and cold water. I don't usually need to thicken it. Serve on rolls. This makes enough for 8 rolls.
Dundee Mince Roll